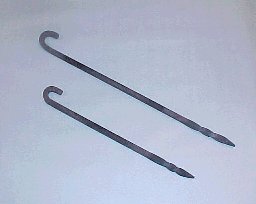 Tent Stakes
Standard candy cane tent stakes. Three different stakes are available for your pavilion. The smallest stake (not shown) is made from 3/8 inch round stock. The larger stakes are made from square stock with a twist at the tip for extra hold. The 1/2 inch x 24 inch long stake will hold the ropes of even largest pavilion. The shorter 1/2 inch, for those who want that extra hold around the edges. The 3/8 inch stakes are regularly used to stake down smaller pavilions and the edges of larger ones. These stakes come unfinished. Prevent rust by painting them to match your pavilion.
(NOTE: Tent stakes are cheaper when purchased in person!)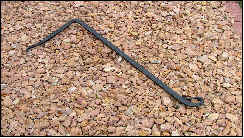 Tent Stake Puller
Archimedes said, "Give me a long enough lever and I can move the world!" He could ask for no better example than this tool. Sturdy stakes require a sturdy puller for easy removal. This improved design is made of 1" x ½" stock, built to give you leverage on the longest stakes without bending. Guaranteed not to bend, or we will repair or replace it free. Flat Black enamal finish.
(NOTE: Tentstake Pullers are cheaper when purchased in person!)
Portable hole
This is our most popular item with reenactment groups. Drive it into the ground and insert your banner pole. Sturdy enough to pound in with a hammer and hold your banner in the wind. Made of 1/2 square stock, the loops are 1-1/4" inch in diameter. Just the right size for closet rod.
Rectangular Grill (Approximately 18x16, email dan@irontreeworks.com for custom dimensions)

Although this design is not documentable, its ideal for people wanting an easy-setup grill. Simply pound the 4 stakes into your firepit, hang the grill on four S-hooks (provided), and go! Guaranteed strong enough to hold 195 lb. blacksmith!

(NOTE: Grills are cheaper when purchased in person!)
Viking Cookware

Two types of baking "pans" were available to the Vikings. The one on the left is a long handled baking pan made by riveting a shallow sheet metal pan to the long handle. It is unique because the pan was riveted in the center. The pan has a slightly raised lip to keep batter from flowing over the side. Pans vary between 9 and 11 inches. The "pan" to the right is made from a single piece of iron wrapped in a spiral. Pans like this were found in the graves of important women from over 1000 years ago. They were buried with the cooking implements. Archeologists widely believe that these were used for grilling meat and fish. We have photos that show these types of pans still being used within the last 150 years by swedish settlers. We have even used it for baking flat bread, not on the fire, but on the preheated hot iron "pan". We've tested this and it really works!

9 to 11 inch sheet pan: Price..........$50.00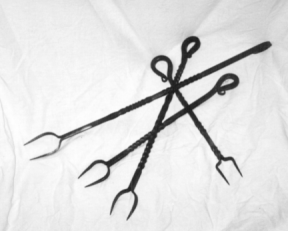 Forks
Based on medieval design, our heavy-duty forks come in varying lengths and stock sizes. The 6" size is grand for feasting, while the 24" model functions as a camp-cooking staple. Iron comes with a vegetable-oil finish.
Please specify length when ordering.
Fancy Iron Cooking Fork.......$25

Colonial Skillet

Two types of skillets were available during colonial times. The left hand skillet was used over a grill or hearth shelf, while the right hand skillet or "spider" was placed in the fire with it's own legs. The skillet above, made in our shop, is being used at the 230-year old Jerusalem Mill in Harford County, Maryland. The mill was once the centerpiece of the thriving Quaker settlement of Jerusalem in the 18th and 19th centuries.

Dimensions: Both pans are 9 inches in diameter at the top and 7 inches in diameter at the bottom. The spider's legs keep it about 8 inches off the ground. The handle length is about 16 inches, but can change upon request. The legs and arms of the spider skillet can be welded or riveted. Welded legs are stronger, but riveted legs are more historically accurate. Either style will last your lifetime.
CARING FOR IRON COOKWARE
Flint and Steel Striker

Hardened high carbon steel, a sharpened flint, and some tinder are all you need to start a fire to ward off the cold night air.
American Civil War Tripod

This can be found at almost every reenactment. This versatile implement can be used as a tripod or a barbecue spit. In 3 pieces, it sets up in seconds. Your Tripod comes with 3 simple hooks and one foot of light weight chain so you can hang one pot of stew. (pot not included)
CARING FOR IRON COOKWARE
Skewers

Made from 3/16 round or square stock, these 18 inch skewers are seasoned with vegetable oil. Take them camping or just throw them on the grill in your back yard. Please specify pattern (Music, shepard, large spiral, small spiral)
S hooks come in various lengths and sizes, with single or double twists. Use them to support your stew pot on your tripod or to hang plants from your ceiling.

Twisted "S" Hooks are made of 5/16 stock with a 1-1/4" diameter hook.

Small simple "S" hooks are made of 1/4 round stock with a 1" diameter hook.
(unfinished/no twists)

5 inch S-hook...$6.00